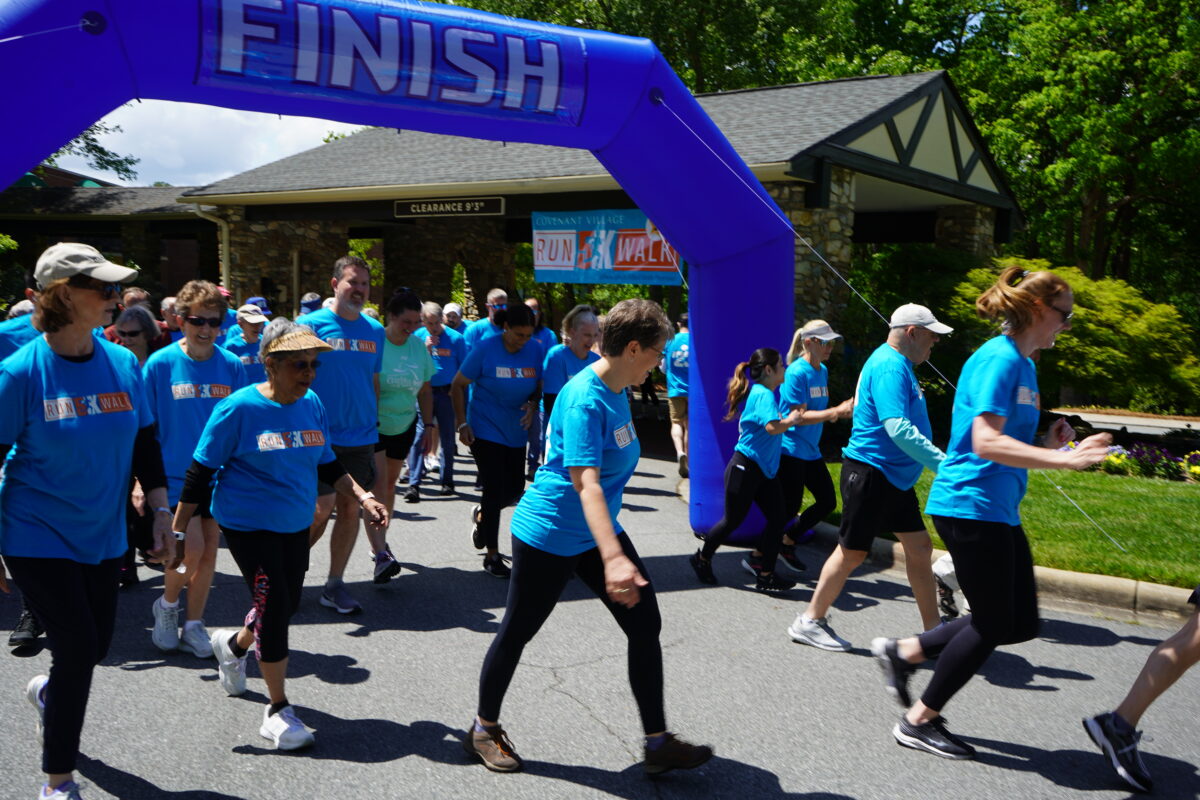 Resident and staff 5K finishes with impressive results
Covenant Village residents dusted off their sneakers and walking shoes to participate with staff in a 5K walk and run at the retirement community.
The event took place Saturday, April 22, in conjunction with a Spring Fling Festival, held later that day, to celebrate the 40th Anniversary of Covenant Village.
More than 54 people participated in the 3.1-mile race, including 20 employees and 10 guests, and 24 senior adult residents, age 71 to 86.
"Originally, I planned the 5K for our Employee Wellness Program. Yet, the more I planned, I knew I had to get the residents involved as well," said Director of Wellness Danny Wood, who coordinated the walk/run.
"The residents amazed me with their determination. The best part was the smiles on everyone's faces and their overall sense of accomplishment. By no means was this an easy 5K for anyone. One route, covering the entire property, challenged even the most advanced participants with several steep inclines," he added.
Participants had the option of completing two courses, each 3.1 miles long. Both included steep inclines over the rolling terrain and wooded paths throughout Covenant Village's 54-acres.
"More than half of the residents completed the full race. Those who did not finish still completed half, around 1.5 miles," said Wood.
First-place resident finisher, David Wentz, said he was relieved to reach the last major hill, which he had conquered four times before the final loop. At age 75, he completed the advanced course in just over an hour, with a time of 63:10. This was his first 5K.
"It's important to stay active. Once you stop, it's harder to keep going. At Covenant Village there are many ways to stay active and engaged, whether it's using the gym, crafting or walking, among so many choices" said Wentz, who has lived at Covenant Village four years and regularly golfs, hikes and walks the wooded paths and trails with his spouse, Sarah.
Staff participants at the 5K represented every service area from Dining to Administration to Property Services to Healthcare and entered the race to earn points for their department in a year-long employee wellness competition.
Twenty-year-old Abel Hernandez, a CNA in Covenant Village's Health Center, finished first with a time of 27:21.
"At first, the 5K was a way for me to get back into running since competing in high school. But as I practiced at nearby parks, I really wanted to win. The course was tough. I kept pushing up those hills to win for the Nursing Department," said Hernandez, who joined the Health Center staff a year ago – his first job since completing the Certified Nursing Assistant Program at Gaston College.
Hernandez said he appreciates the opportunity to focus on wellness where he works.
"It gets people moving, and the competition keeps you going," Hernandez added.
A comprehensive wellness program is just one of the ways Covenant Village promotes a wellness-centered lifestyle to its 265 residents and 215 employees and to future residents on the waiting list who have joined the Village Club, a special Wellness Center membership for non-residents. Access to a well-equipped gym and exercise space, a 65-foot temperature-controlled lap/exercise pool, employee wellness incentives and resident classes – including balance and core strengthening, water aerobics, aqua-cycling and chair volleyball – contribute to Covenant's wellness philosophy that is based on the eight dimensions of wellness: physical, spiritual, emotional, intellectual, social, financial, environmental and purpose.
"I am using health and wellness to strengthen the friendships and bonds of our entire community. The residents love seeing the employees participate, and the employees love seeing the residents stay active. When I can help people create healthier lives, and have fun while doing it, I have done my job.
"The projects and development Covenant Village has in store for the near future will only improve our overall wellness and culture within," said Wood.
---